Fukushima Samurai
Noriko Takasugi's portrait, 'Fukushima Samurai' (below), was selected for Portrait Salon 2013 and is part of her series 'Fukushima Samurai – The Story of Identity'.
Takakatsu, 68. When it gets closer to Soma Nomaoi, he practices horse racing every 4am morning with his stable mates in the beach. His house facing the beach, destroyed and some of his horses in his stable next to the house were washed away. September 2012.
'Since 2011, I have devoted my time to capturing the survivors of 3.11. While I am listening to their story, I could not ignore the unique spirit emerging in these people. For my project, I especially focused on the people who were once residents in the 20km radius of the Fukushima Daiichi nuclear plant. These photos are part of my long-term project that differs from the major news stories about the disaster, having been investigating the evacuees not as victims, but as part of a 1000 years old folk culture of the area and representative of Japanese identity, examining how they are surviving such hard times and fighting their fate to retain their sense of self, both as individuals and as part of a group.'
Shingo, 34. His 'favourite house' with an ocean view on a hill was washed away 10-meter inland by the tsunami. "All the belongings including armor for the Soma Nomaoi annual celebration and two horses that we had taken care of as family were washed away." September 2012.
Kunihito, 40. "I lived here since I was born until the disaster occurred. Roof tiles fell off and walls cracked due to the earthquake, but the house is habitable only if the level of radiation exposure was normal." September 2012.
'About 18,000 people have past away or missing due to the disaster. It triggered the nuclear explosion at the Fukushima Daiichi Nuclear Plant. About 230,000 are still living as evacuees. Related death in Japan is more than 3,000 including more than 1,700 in Fukushima. The majority of people who lived in Fukushima at the time are still living the life of evacuees, devoting a great deal of their time to dealing with the effects of nuclear contamination.'
Yoshiyuki, 59. His former house was also his small furniture factory. He had lived here since he was born and worked locally for more than 35 years. In July 2012, he moved all the equipment from his former home to his new one in the neighboring city, where he evacuated to and live now, to restart the furniture business. September 2012.
Masaki, 31. Masaki used to live with his three children in Odaka. After the disaster he decided to stay in the next town instead of evacuating farther afield. "Of course I worried about the radiation effects but I did not want to move too far from my town because it is the place where Soma Nomaoi is held". September 2012.
'Soma Nomaoi is an annual celebration of Samurai culture in Fukushima more than 1000 years old. About 2000 people died in Fukushima due to 3.11, most of who were from the area where the Soma Nomaoi is held. Despite the harsh conditions, loss of lives and loss of hundreds of their horses and much of their armory, the majority of the surviving Nomaoi Samurai warriors agreed to hold the gathering in 2011, just a few months after the disaster. It is not just an event but also an embodiment of their identity and fight for survival. Here, the samurai way of life, "Bushido", corresponds to the concept of chivalry. This sense of identity represents how and why, they live. The Nomaoi Samurai warriors portrayed here were once residents in the area close to the Fukushima Daiichi nuclear plant. Most of them are no longer allowed to live there but they can enter the area during the day. Each of them stands in the places that had a personal meaning to them in the area in their everyday life, reviving their memories of home.'
'Although the typical image of current Japan might be still positive with Tokyo's high-tech buildings, to people outside Japan, the country remains a hidden world. I would like, through my photography, to show this secret part of Japan: the mentality, inner warmth and profound sense of beauty triumphing over adversity, and awe to the nature. Those secrets part are not the extraordinary things for us but accumulation of our choices in our ordinary life. Such qualities are often obscured nowadays in the world as a whole, not just in Japan. My ordinary life and Japanese root came across to these Samurai people while I am taking the light and shadow of them by my camera.'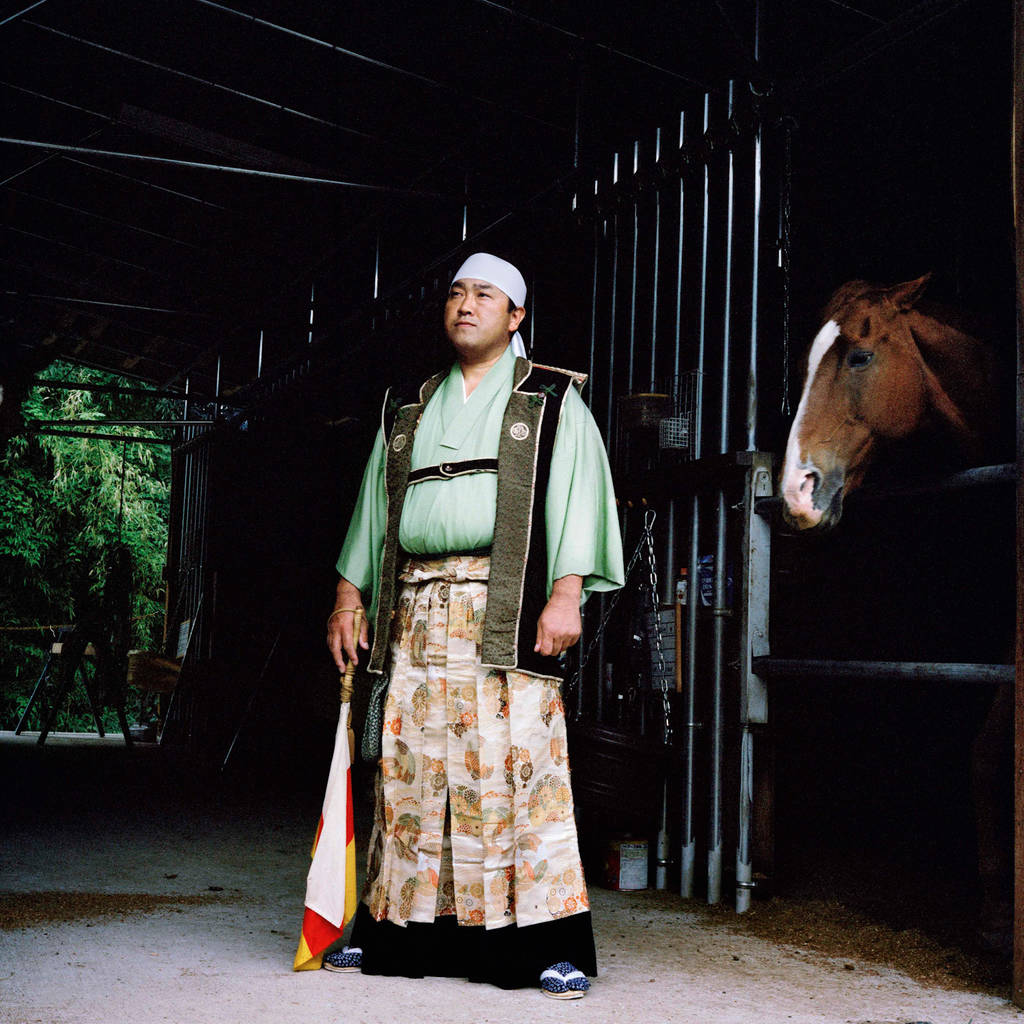 Hironobu, 44. He took me to a horse stable that his family member and he built on his wife's parents' property after the disaster. "I am now taking care of several horses that did not have anyone to rely one anymore because of the disaster". The three kids and their parents are living separately in different municipalities as an evacuee life. "It is hard to only see the kids on weekends." September 2012.
Kunio, 65. "I used to stand in front of this kamidana (a household altar) sacred to Odaka Shrine and pray every morning when we were living here before the disaster." He prayed when somebody in his family got sick, when his daughter-in-law gave birth and also for other occasions. Standing solemnly in front of the kamidana with gratitude as part of his daily routine was such a precious and calm moment for him. He cannot live here now but he prays to the kamidana whenever he visits here. August 2012.
Born in Japan and based in Tokyo, Noriko Takasugi graduated with an MA in Photojournalism & Documentary Photography at London College of Communication, University of the Arts London. Working as an editor for monthly graphic magazines led Takasugi to increase her passion for photography and storytelling. She has always been fascinated with connecting with people whose culture is strongly associated with the land and integrating herself with them through photography. Takasugi's work has been exhibited widely in UK and published in The Telegraph, Independent, Wired.com. She was awarded the Konica Minolta Foto Premio 2014, selected as a finalist of PhotoQuai 2015 Biennale and a finalist of Critical Mass 2013 (Photolucida).
Takasugi's hand made self-published photobook, "Fukushima Samurai – the story of identity" has been selected for E Book Show and G Book Show.
James O Jenkins